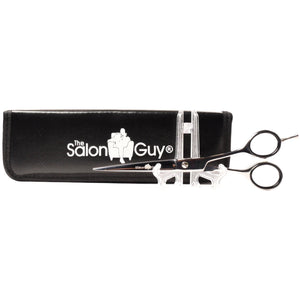 These 7" haircutting shears are hand crafted with 440c steel, straight handles and are set with the perfect amount of tension. The shears were created under the direction of Stephen TheSalonGuy who always prefers a 7" shear, straight handle and ones that can cut a variety of techniques. They are VERY sharp and will last a long time. Sharpening will be your own responsibility. There are many scissor sharpening companies to choose from in your area. 
Along with the purchase you will receive a private instructional video on the fundamentals of haircutting. You will be emailed the link to watch at anytime. 
Stephen has tested these and currently is his shear of choice when cutting hair.